Research Achievements
A durable nanomesh on-skin strain gauge for natural skin motion monitoring with minimum mechanical constraints


We have succeeded in developing a thin, ultralightweight, permeable, highly durable and stretchable on-skin strain gauge with minimum mechanical interference on natural skin motions. The device is made from reinforced polyurethane-polydimethylsiloxane (PU–PDMS) nanomeshes and exhibits excellent sustainability, sensing linearity, and durability with low hysteresis. Its thinness geometry and softness provide minimum mechanical interference when the skin stretches and compresses. During speech, the nanomesh attached face exhibits skin strain mapping comparable to that of a face without nanomeshes. Long-term facial stain mapping during speech and the capability for real-time stable full-range body movement detection was demonstrated.

Nonthrombogenic, stretchable sensor matrix for chronic electrophysiological monitoring


We have developed a biocompatible sensor array for direct electrophysiological monitoring of moving heart. Organic electrochemical transistors have been applied for many bio-monitoring interfaces and proved their high sensitivity. When applied on the heart in surgeon, however, the dynamic movement of the sensing target and the foreign body reaction disable it completely. Here we achieved a higher biocompatibility through engineering from multiple aspects. The device has thousands of micro holes with well controlled shape, and thus it wraps around the moving target softly. The adhesion of biomaterials contained in blood is suppressed by a special nonthrombogenic polymer coating, which is used for implantable stent. Whereas a conventional sensor array was disabled immediately after lamination on the heart, our biocompatible interface successfully monitored its electrophysiological activities for ~1 hour.

Highly efficient ultra-thin long-life organic solar cells, with new power generation layer design and thermal stabilisation technology with port-annealing treatment


We have developed ultra-flexible 3-µm-thick organic photovoltaics (OPVs) with good environmental stability and a high-power conversion efficiency (PCE) of over 13%. A laboratory-scale OPV module is fabricated with a sufficiently high PCE of 11.4%, total area of 2.04 cm2, and a maximum power per unit weight of 9.90 W/g. Our work makes one step closer to a viable mass-production of ultra-flexible OPVs that are both efficient and durable.

World's most sensitive ultra-flexible and breathable mechanoacoustic sensor that listens to your heart


We developed a multilayered nanofiber structured ultralight weight (5 mg) mechanoacoustic sensor with world's highest acoustic sensitivity. In addition, our sensor allows the skin to breathe when attached on chest wall of a human subject. In future, it is expected that our sensor may replace the bulky stethoscope that requires highly skilled clinicians to identify abnormal heart sounds, and even current state-of-art wearable patch type sensor that lacks breathability for continuous inflammation-free heart monitoring.

Skin attachable electrocardiography device powered by ultra-thin organic solar cells   


We have successfully demonstrated a self-powered ultraflexible electronic device that can measure biometric signals with very high signal quality on skin/tissue surface without a bulky power supplement. It was composed of an organic electrochemical transistors (OECTs) as a sensor and an organic photovoltaics (OPVs) as a power source on the same 1-μm-thick ultra-flexible plastic substrate. The OECTs can detect cardiac signals of human when mounted on human skins, and the power for the signal detection was provided by the OPVs that can generate power under light irradiation. It is expected that such integrated, self-powered sensors with be utilized for long-term health monitoring in the future.
Durable nanomesh on-skin strain gauge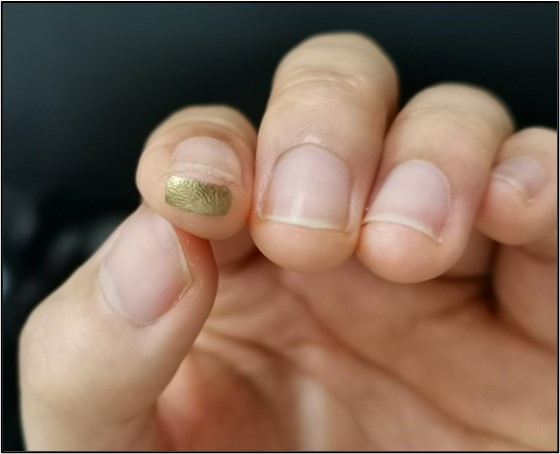 【Details】One possible application that inspired this particular research is the idea that such sensors could be worn on the face to detect microexpressions — brief, involuntary facial expressions revealing emotions such as happiness, anger, sadness and fear. This could be useful as a diagnostic or therapeutic tool for children with autism spectrum disorders who may have difficulties expressing themselves. The sensor's presence would go almost unperceived by the wearer, for whom comfort is extremely important.

Details of nanomesh strain gauge:
Ultralightweight (0.012 mg/cm2) and ultrathin (430 nm). Its stretchability and strain sensitivity can be controlled simply by changing the concentration of dilute PDMS solution. The device can survive cyclic stretching/releasing to 60% strain for 5000 times with low resistance degradation (∆R/R0) of only 0.03. Stable and reversible strain sensing was found for 12 hours stretch holding under 40% stain, with a less than 0.053 electrical drift error. And, the reliable electrical responses are independent of the stretch frequencies.
【Information of paper】Y. Wang, S. Lee, T. Yokota, H. Wang, Z. Jiang, J. Wang, M. Koizumi, T. Someya, "A durable nanomesh on-skin strain gauge for natural skin motion monitoring with minimum mechanical constraints". Science Advances. 6, eabb7043 (2020). DOI: 10.1126/sciadv.abb7043
Press release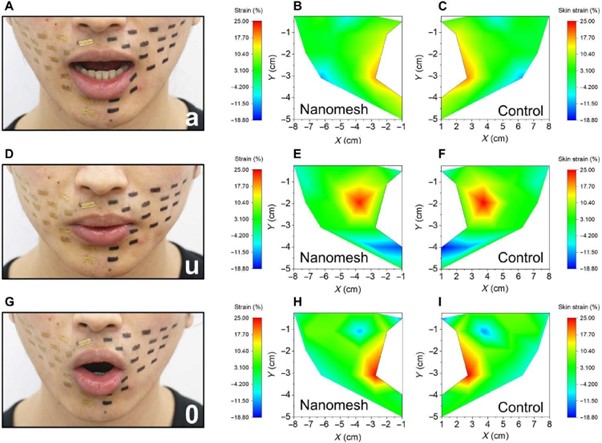 Nonthrombogenic, stretchable sensor matrix for chronic electrophysiological monitoring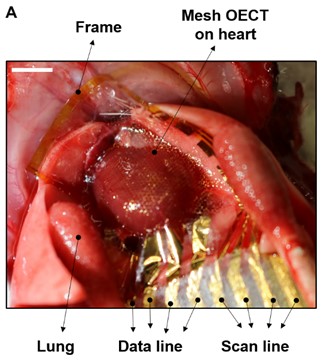 【Details】High-precision monitoring of electrophysiological signals with high spatial and temporal resolutions is one of the most important subjects for elucidating physiology functions. Recently, ultraflexible multielectrode arrays (MEAs) have been fabricated to establish conformal contacts with the surface of organs and to measure propagation of electrophysiological signals with high spatial-temporal resolution; however, plastic substrates have high Young's modulus, causing difficulties in creating appropriate stretchability and blood compatibility for applying them on the dynamically moving and surgical bleeding surface of the heart. Here, we have successfully fabricated an active MEA that simultaneously achieves nonthrombogenicity, stretchability, and stability, which allows long-term electrocardiographic (ECG) monitoring of the dynamically moving hearts of rats even with capillary bleeding. Because of the active data readout, the measured ECG signals exhibit a high signal-to-noise ratio of 52 dB. The novel stretchable MEA is carefully designed using state-of-the-art engineering techniques by combining extraordinarily high gain organic electrochemical transistors processed on microgrid substrates and a coating of poly(3-methoxypropyl acrylate), which exhibits significant antithrombotic properties while maintaining excellent ionic conductivity.
【Information of paper】Wonryung Lee, Shingo Kobayashi, Masase Nagase, Yasutoshi Jimbo, Itsuro Saito, Yusuke Inoue, Tomoyuki Yambe, Masaki Sekino, George G. Malliaras, Tomoyuki Yokota, Masaru Tanaka, and Takao Someya, "Nonthrombogenic, stretchable, active multielectrode array for electroanatomical mapping", Science Advances, Vol. 4, No.10 (2018). DOI: 10.1126/sciadv.aau2426
Press release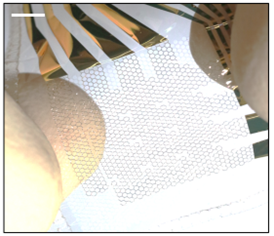 Highly efficient ultra-thin long-life organic solar cells
【Details】OPVs are considered to be a promising alternative to silicon-based photovoltaics, being more environmentally friendly and cheap to produce. Ultrathin flexible photovoltaics are particularly attractive, as they could provide large power per weight and be used in a variety of useful applications such as powering wearable electronics and as sensors and actuators in soft robotics. However, ultrathin OPVs tend to be relatively inefficient, typically having a PCE of around 10% to 12%, significantly lower than the value of silicon cells, which can be as high as 25%, or of rigid organic cells, which can be up to around 17%. Ultrathin OPVs also tend to degrade rapidly under the influence of sunlight, heat, and oxygen. Researchers are trying to create ultrathin OPVs that are both energy efficient and durable, but it is often a difficult tradeoff. Here in this paper, we realized ultra-flexible OPVs that simultaneously have high PCE of 13.2% and outstanding environmental stability. By combining the stable polymer donor/non-fullerene small molecule acceptor blends and thermally stabilized interfaces due to doping, our OPVs achieve extremely long shelf lifetime with an estimated value of over 11.4 years in dark ambient conditions and good operation stability under 1 sun condition. Our devices, with a high P CE, outstanding environmental stability, areal scalability, and long-term operational stability, can be very promising as flexible power sources for wearable electronics and soft robotics.

【Information of paper】Zhi Jiang, Fanji Wang, Kenjiro Fukuda, Akchheta Karki, Wenchao Huang, Kilho Yu, Tomoyuki Yokota, Keisuke Tajima, Thuc-Quyen Nguyen, and Takao Someya, "Highly efficient organic photovoltaics with enhanced stability through the formation of doping-induced stable interfaces", Proceedings of the National Academy of Sciences of the United States of America, Vol. 117, No. 12, pp. 6391-6397 (2020). DOI: 10.1073/pnas.1919769117
Press release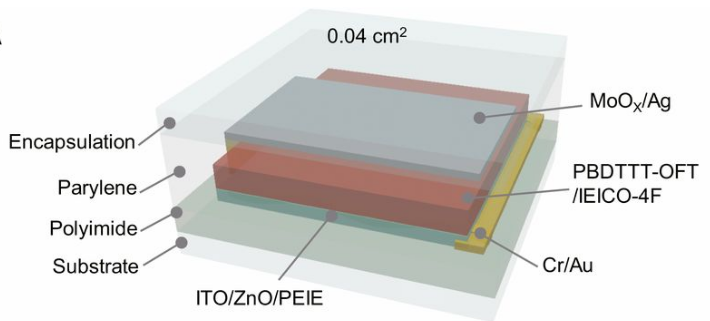 Breathable mechanoacoustic sensor that listens to your heart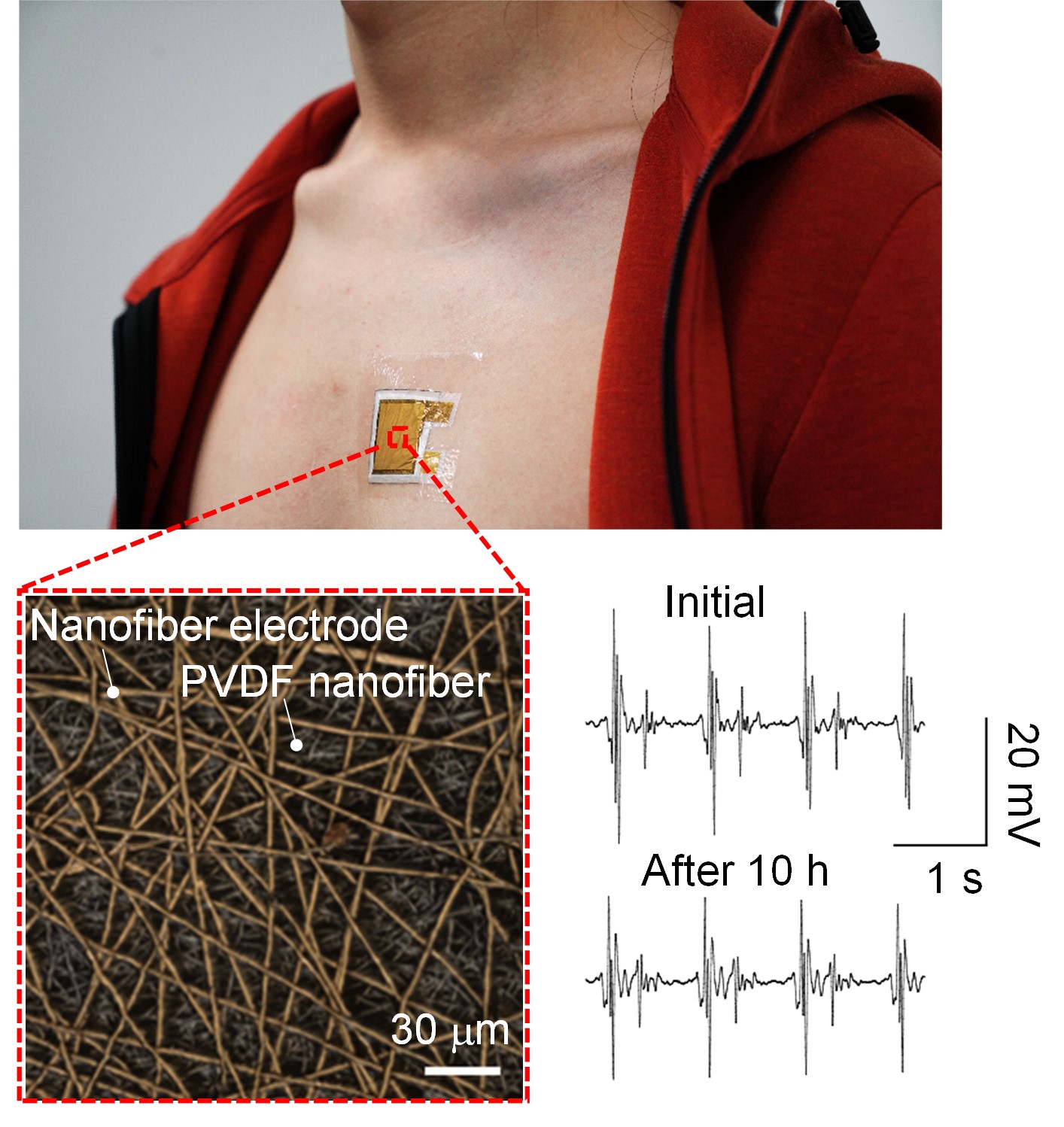 【Details】Listening the body acoustics, particularly abnormal heart sounds are clinically important to the cardiologists for the early diagnosis of heart diseases. The recent emergence of flexible patch-type wearable mechanoacoustic sensors that detects heart sounds is replacing the bulky stethoscope, which requires highly skilled clinicians to identify abnormal heart sounds. However, the limited sensitivity and not being gas-permeable, current wearables limit their application in continuous and inflammation-free long-term monitoring of heart sounds. To tackle these issues, we have developed a mechanoacoustic sensor that achieves world highest sensitivity in low frequency region (<500Hz). The vibration/sounds generated by heart also lie in this frequency regime. The sensor comprises of three layers where a nanofiber sheet of piezoelectric material (polyvinylidene fluoride, PVDF) is sandwiched between two nanofiber electrode sheets.

We have utilized electrospinning method to fabricate each fiber sheet separately before sandwiching. This unique structure enables a combined piezoelectric and triboelectric effect to achieve the ultrahigh sensitivity. Being nanofibrous structure of each layer, the sensor is ultralight (weight 5 mg or less) and maintains a natural gas-permeability of skin, which is essential to be used as a hypoallergenic electronic sensor. We have monitored the heart signals continuously for 10 h by attaching the sensor on skin (Fig. 2). Our all-nanofiber mechanoacoustic sensors can offer a long-awaited solution to the cardiologists for the diagnosis of heart diseases associated with valvular deformations by continuous seismocardiographic monitoring of heart signals for long-time.

【Information of paper】Md Osman Goni Nayeem, Sunghoon Lee, Hanbit Jin, Naoji Matsuhisa, Hiroaki Jinno, Akihito Miyamoto, Tomoyuki Yokota, and Takao Someya, "All-nanofiber–based, ultrasensitive, gas-permeable mechanoacoustic sensors for continuous long-term heart monitoring", Proceedings of the National Academy of Sciences of the United States of America, Vol. 117, No. 13, pp. 7063-7070 (2020). DOI: 10.1073/pnas.1920911117
Press release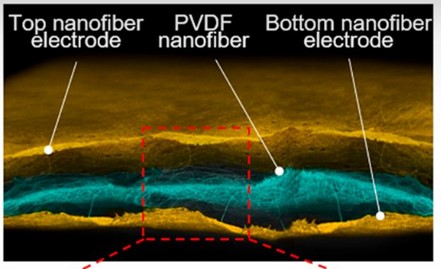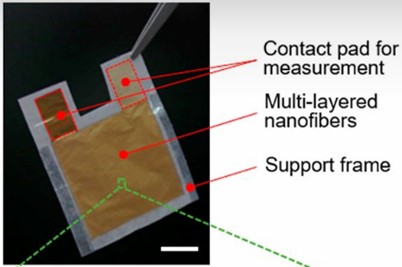 Skin attachable electrocardiography device powered by ultra-thin organic solar cells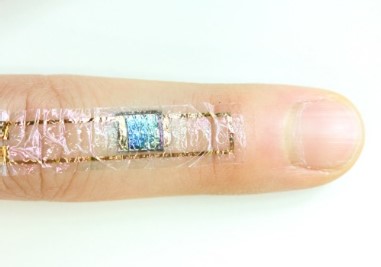 【Details】Self-powered devices that can be fitted directly on human skin or tissue have great potential for medical applications. They could be used as physiological sensors for the real-time monitoring of heart or brain function in the human body. However, practical realization has been impractical due to the bulkiness of batteries and insufficient power supply, or due to noise interference from the electrical supply, impeding conformability and long-term operation. The key requirement for such devices is a stable, adequate and reliable energy supply. Here in this paper, we realized an ultra-flexible OPV with an efficiency of 10.5% and density of 36.6 μg/m2, resulting in the world's largest power-per-weight of 11.66 Wg–1 (at the publication time). In particular, a high-throughput room-temperature moulding process was used to form nano-grating morphologies (with a periodicity of 760 nanometres) on the charge transporting layers, which substantially increased the efficiency of the OPVs. With the power supply from the OPV, the OECT exhibited a transconductance of 0.8 millisiemens and fast responsivity above 1 kHz under physiological conditions, which resulted in a maximum signal-to-noise ratio of 40.02 dB for cardiac signal detection. Our findings offer a general platform for next-generation self-powered electronics.
【Information of paper】Sungjun Park, Soo Won Heo, Wonryung Lee, Daishi Inoue, Zhi Jiang, Kilho Yu, Hiroaki Jinno, Daisuke Hashizume, Masaki Sekino, Tomoyuki Yokota, Kenjiro Fukuda, Keisuke Tajima, and Takao Someya, "Self-powered ultra-flexible electronics via nano-grating-patterned organic photovoltaics", Nature, Vol. 561, pp. 516-521 (2018). DOI: 10.1038/s41586-018-0536-x
Press release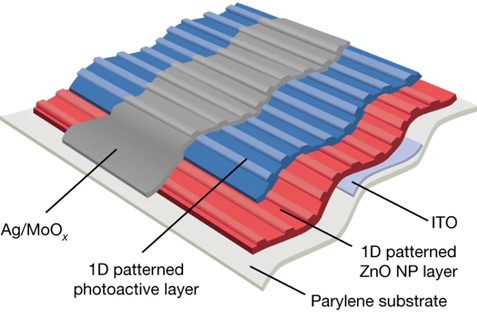 -->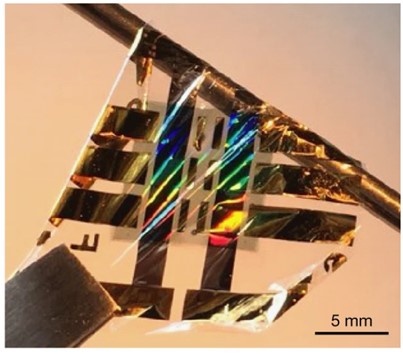 -->